Four Common Types Of Motorcycle Accidents In Naples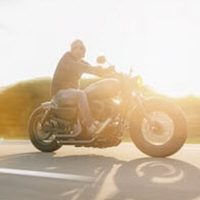 Motorcycle accidents in Naples are common and can result in devastating personal injuries. Negligence on the part of motorists is often to blame. To protect yourself, be aware of the risks. Our Naples motorcycle accident lawyer explains more about hazards bikers face and most common types of crashes.
To Prevent Motorcycle Accidents In Naples, Be Aware Of The Risks
If you ride a motorcycle, either as a hobby or a primary means of transportation, you need to be aware of the risks you face on the road. According to the Florida Department of Highway Safety and Motor Vehicles (FLHSMV), roughly 75 motorcycle accidents in Collier County happen each year. This averages to more than six per month.
When a motorcycle accident in Naples does occur, it is often due to the reckless and negligent behavior of other motorists involved. This includes:
Speeding and going too fast for conditions;
Aggressive driving, such as tailgating and failure to yield;
Running red lights or stop signs;
Driving under the influence;
Distracted driving.
Four Ways Naples Motorcycle Accidents Often Happen
While negligence on the part of other drivers is often the cause of motorcycle accidents in Naples, it is bikers themselves who generally suffer the most harm. To protect yourself, be aware of four common ways these crashes happen:
Passing Motorcycle Accidents
Drivers may get frustrated following behind a motorcycle and attempt to pass or simply be switching lanes. Either way, failing to check blind spots or allow enough room while moving into the other lane is a common cause of passing crashes.
Turning Motorcycle Accidents
These are one of the most common types of motorcycle accidents. According to an August 2022 Naples news report, a left turn accident was responsible for leaving a local man with severe personal injuries. In this particular case and others like it, a driver attempts to turn onto a side street or at an intersection and pulls directly in front of a motorcyclist.
Rear End Motorcycle Accidents
These typically occur due to tailgating. A motorist may follow a biker so closely that they are unable to respond to sudden stops or other movements. As a motorcyclist, it is important to put safety first in this situation. If a driver is following too closely, reduce your risks by switching lanes and allowing them to pass.
Head-On Motorcycle Accidents
These are one of the most common and potentially deadly types of motorcycle accidents in Naples. They often happen at night, on major freeways, and near exit or entrance ramps. Unfamiliarity with the area and being distracted or under the influence are often to blame.
Reach Out To Our Naples Motorcycle Accident Lawyers
If you or someone you love is injured in a motorcycle accident in Naples, reach out to Cardinal Law, P.A. We provide the caring support and trusted legal guidance you need in filing a claim. To request a consultation, call or contact our Naples motorcycle accident lawyers online today.
Sources:
flhsmv.gov/pdf/crashreports/crash_facts_2020.pdf
naplesnews.com/story/news/local/2022/08/13/naples-motorcyclist-seriously-injured-after-car-strikes-him/10317490002/