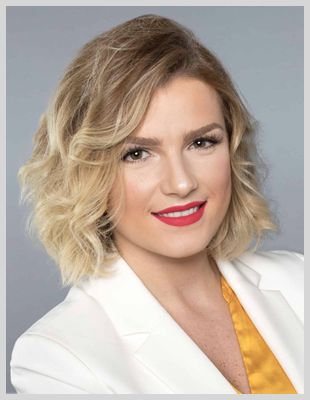 Gerta S. Toska
Personal Injury Case Manager
Why work with me?
Gerta Toska is the head Case Manager for the personal injury department at Cardinal Law. She has over a decade of experience in personal injury claims, from pre-suit to litigation. Gerta graduated from Florida Gulf Coast University with a Bachelor of Arts in Political Science and attended Thomas Jefferson School of Law. She is a licensed Notary Public for the State of Florida, and speaks fluent Albanian, English, Spanish, Italian, and Greek.
Gerta is adept at assessing and managing Personal Injury claims. She handles all aspects of an injury case from client intake through disbursement of funds after settlement or judgment. Gerta prides herself on achieving top dollar settlements for Cardinal Law clients, being aggressive, talented, and hard-working. She loves what she does, and her enthusiasm is evident in her all aspects of her work as well as client reviews. Most importantly, she always puts client needs first and cares most about their treatment and well-being.
General Background
Gerta grew up in Albania and immigrated to the United States at the age of 14. She spent her early years in the Glendale neighborhood of the New York City borough of Queens, and moved to Naples, Florida at the age of 20. She is married to Tony Toska, and has a step-son (which she likes to call her "bonus son") named Erton Toska, and two biological children, Aiden Toska 3.5 years old and Aria Toska 1.5 years old. Prior to joining Cardinal Law Naples Personal Injury Law, Gerta was the lead case manager for multiple Personal Injury Law Firms in Naples.
Activities and Affiliations
Gerta is involved in several Non-Profit organizations that serve those in need.
House of Gaia
Albanian Student Professionals
Naples Chamber of Commerce
New York Public Library
American Cancer Society
World Food Program
Focus on The Family
Education
Lehman College, NY, Associate Science Degree
Florida Gulf Coast University, B.A., Political Science and Economics
Thomas Jefferson School of Law