Motor Vehicle Accidents And Fall Injuries Pose Major Risks For Older Adults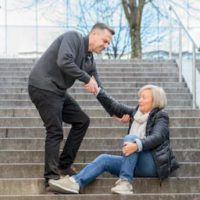 Personal injuries in Naples can impact people of all ages. However, older adults are particularly susceptible and the harm they suffer is often severe. During Older Adult Month, the focus is on prevention of some of the most common hazards. Our Naples personal injury lawyer explains how motor vehicle accidents and falls are among the biggest risks.
Older Adult Fall Injuries 
Older Americans Month is held each year in May. It focuses on some of the common issues associated with aging and the biggest hazards older Americans face. Personal injuries pose major risks and one of the ways they happen most is as a result of falls.
Slips, trips, and falls can happen at home, when visiting others, or in any public place. They often occur at grocery stores, shopping malls, local restaurants, office buildings, medical facilities, and other places older adults frequently travel. Wet floors, uneven sidewalks, torn carpeting and other damaged flooring materials, or overly cluttered aisles can all increase the risks.
Unfortunately, in addition to being more susceptible to fall accidents, older adults are more likely to suffer serious personal injuries than their younger counterparts. Among the most common include:
Back and neck injuries, such as whiplash or herniated discs;
Dislocated joints and broken bones, often impacting the shoulders, hips, or knees;
Head injuries, resulting in concussions and traumatic brain injuries;
Soft tissue injuries, such as muscle or tendon sprains, strains, and tears;
Spinal cord injuries.
These types of personal injuries can be devastating at any age. However, for older adults, they can cause long-term impacts to their overall health and mobility, hastening the need for nursing home care and even resulting in an otherwise untimely death.
Motor Vehicle Accidents And Older Adults
In addition to falls, motor vehicle accidents also pose major hazards for older adults. According to the Centers for Disease Control and Prevention (CDC), more than 7,500 people over 65 are killed in car crashes each year while over 200,000 others suffer serious and potentially debilitating personal injuries.
Car accidents are a hazard for older adult drivers, as well as for pedestrians over the age of 65. Ways to reduce the risks include:
Get your vision checked regularly;
Realize the impacts aging can have on your reflexes and coordination, and how this could increase risks;
When walking, stay on sidewalks and cross only at designated intersections;
In a car, make sure to wear your seatbelt at all times;
Speak to your doctor about any chronic conditions you suffer from, how these could increase your risks, and the impact of any medications you are taking.
Contact Our Naples Personal Injury Lawyer
Motor vehicle accidents and falls are common causes of personal injuries in Naples among older adults. Unfortunately, these often result in long-term disabilities and may even hasten an otherwise untimely death. If you or someone you love is a victim, reach out to Cardinal Law, P.A. Call or contact our office online and request a consultation with our Naples personal injury lawyer today.
Sources:
acl.gov/oam/2023/older-americans-month-2023
cdc.gov/transportationsafety/older_adult_drivers/index.html