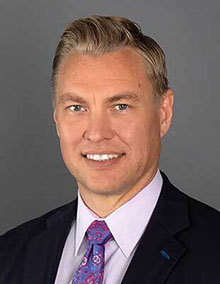 Eric Olson, Esq.
Personal Injury Attorney, Founder
Why work with me?
Eric is a Naples Personal Injury Attorney and the founder of Cardinal Law, P.A. Having lived in Southwest Florida since 1991, Eric has deep roots in the community, a love for and understanding of the area, and a passion for helping those in need. Before starting his own firm, Eric was a litigator at the world's largest law firm — Dentons— and spent almost a decade fighting over complex business, construction, commercial, and real estate disputes.
After the traumatic loss of his father to a misdiagnosed colon polyp and belated discovery of Stage IV colorectal cancer, Eric decided to diverge from complex civil litigation and venture into the world of personal injury and medical malpractice where he can actually help people who are seriously injured in accidents or who lose loved ones to medical malpractice, car accidents, truck accidents, wrongful death, or traumatic events. Eric's goal as a litigator is to help people recover from terrible situations… which can happen at any time, completely out of the blue, and without any prior warnings. Recovery from these life-altering events not only includes receiving the appropriate monetary compensation for bodily injuries but also includes receiving the right treatment from the best medical professionals in Southwest Florida. Eric and his team maximize recovery for Cardinal Law, P.A. clients with this holistic approach to personal injury cases.
General Background
Eric taps into his years of experience litigating complex business cases to achieve top dollar for his personal injury clients. He prides himself on a history of success and has obtained multi-millions of dollars in settlements for his clients, receiving countless testimonials from happy clients and high legal ratings from both clients and peers. Among other things, Eric has been named as a Florida Super Lawyer Rising Star every year since 2018, has been recognized in Lawyers of Distinction as a top personal injury attorney, is listed in U.S. News Best Lawyers and Best Law Firms publication, and was honored by Florida Trend's Florida Legal Elite in 2021.
Eric represents injured people in car accidents, truck accidents, motorcycle accidents, wrongful death actions, traumatic injuries, and other life-changing accidents. In addition to obtaining great results for his clients, Eric and his team also make sure that the injuries are treated and addressed as part of his comprehensive approach to each and every personal injury case.
In addition to a thriving personal injury practice, Eric also handles all aspects of complex civil litigation, representing clients in a wide variety of matters, including transactional disputes, business torts, commercial disputes, construction law, and construction litigation, partnership, and shareholder disputes, and trust and estate litigation. Eric also provides advice and counseling to clients on a variety of business-related issues, with an emphasis on representing sophisticated businesses and individuals. Eric has years of experience litigating complex construction cases and mechanic's lien issues. He has served as outside counsel for several construction companies, roofing companies, subcontractors, and other business entities, providing legal and business advice for a variety of corporate, business, and litigation matters. For several years, Eric handled litigation matters and construction disputes for Lennar's Southwest Florida Division, with Lennar being the nation's largest homebuilder.
Prior to forming Cardinal Law, P.A., Eric was a member of the Litigation and Dispute Resolution Group at Dentons, Cohen & Grigsby P.C., which is affiliated with the largest law firm in the world with over 10,000+ lawyers. Prior to that, he was a litigator for a prestigious boutique litigation firm in Naples, FL.
Honors and Awards
Eric was selected for four consecutive years to 2018, 2019, 2020, and 2021 lists of Florida Super Lawyers as a Rising Star in business litigation and personal injury. On average, only 2.5% of Florida attorneys are selected each year for this honor.
In 2021, Eric was honored among Florida Trend's Florida Legal Elite. An average of only 2% of Florida Bar members are honored with this annual recognition. He was also included in 2023 Florida Super Lawyers, and have been listed as a Rising Star from 2018-2022.
Eric's history of excellence began in law school at the University of Miami School of Law. While there, he served as President of the Moot Court Board, was inducted into the Order of Barristers for his litigation skills, and was tapped into the Society of Bar & Gavel for his outstanding service and dedication to the law school. Eric was also a member of the Business Law Review, taught law and public policy to high school students, represented indigent debtors at the local legal aid society, and was a Fellow for both the Miami STREET LAW Program and the HOPE Public Interest Resource Center. Honoring his service and dedication to the school, Eric was selected to be a member of the Iron Arrow Honor Society, the "Highest Honor Attained at the University of Miami."
Activities and Affiliations
Eric grew up in Naples, Florida, and lives with his beloved wife Micha, his adventurous daughter Kaia, and two fluffy Himalayan cats named Moe and Ollie. He volunteers his time at Ave Maria School of Law as a judge and coach for the Moot Court Board, coaches youth soccer teams for the Optimist Soccer Club of Naples, and holds a 2nd Degree Black Belt in Shotokan Karate. Eric loves the outdoors and enjoys gardening and CrossFit. He also supports the local arts and is a Board Member with the local community theater, The Naples Players. Eric is a proud graduate of the Associate Leadership Collier Class of 2020, the class that never ends!
Practice Areas
Personal Injury
Wrongful Death
Accidents, Torts, and Negligence
Commercial Litigation
Litigation and Dispute Resolution
Bankruptcy
Wills, Trusts & Estates
Probate Litigation
Real Estate Transactions
Complex Real Estate and Land Disputes
Partnership and Business Agreements
Complex Business Disputes
Contracts
Landlord / Tenant Law
Construction Law
Construction Litigation
Florida's Mechanic's Lien Laws
Education
University of Miami School of Law, 2012, Juris Doctor, cum laude
University of Miami School of Law, 2012, Master of Laws in Real Property Development
Washington and Lee University, 2002, Bachelor of Arts in English
Community School of Naples, 1998
Admissions
The Florida Bar
US District Court and Bankruptcy Court for the Middle District of Florida
US District Court and Bankruptcy Court for the Southern District of Florida
US District Court and Bankruptcy Court for the Northern District of Florida
Memberships
The Florida Bar, Trial Lawyers and Real Property, Probate & Trust
Collier County Bar Association
Collier County Bar Association, Trial Lawyers Section
The Michael R N McDonnell American Inn of Court
Licensed Florida Real Estate Broker
Board Member, The Naples Players
International Shotokan Karate Federation
International Kiteboarding Organization