After Ian, Water Damaged Vehicles Pose Personal Injury Risks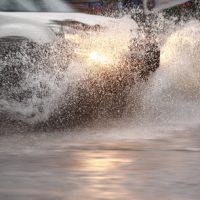 When Hurricane Ian made landfall in Southwestern Florida recently, it caused widespread flooding throughout the area. In addition to impacting the homes of residents throughout Naples, many suffered extensive water damage to their vehicles. Our Naples car accident lawyer explains how these flooded vehicles could pose personal injury risks on the road.
How Even Minor Water Damage Could Impact Your Vehicle
A September 29, 2022 Local 10 News report detailed the extensive damage Hurricane Ian caused to our area. In addition to the tragic loss of life and numerous personal injuries, the category 4 storm caused extensive property damage as well. Flooded cars were left abandoned on many roads. Residents lucky enough to have been spared some of the flooding are still likely to be dealing with other impacts in the aftermath.
Even relatively minor amounts of water can cause major damage to your vehicle. According to Consumer Reports, common problems vehicle owners are likely to suffer in the aftermath include:
Engine and transmission problems, due to damaged parts and water mixed in engine oils;
Brake problems, resulting in malfunctions and sudden brake failures;
Weakened belts or bolts, which could cause sudden breakage;
Damaged electrical systems, impacting turn signals, lights, and starting or charging systems;
Damage to airbag systems, which could jeopardize your personal safety either in an accident or when airbags deploy unexpectedly.
Hurricane-Damaged Cars Increase Accident Risks 
If your car suffered any type of water damage due to Hurricane Ian or if you were forced to drive in water-logged areas during any part of the storm, it is important to get it checked out by a knowledgeable mechanic immediately. Be aware that even if your vehicle appears to be operating normally, water damage could cause problems in the future.
It is also important to be aware that many of the motorists you encounter on the road are likely to have suffered the same types of damage to their vehicles. Unfortunately, in dealing with the devastating losses caused by Hurricane Ian, they may not have had the time or money to address needed repairs. To protect yourself and your passengers, follow these tips to reduce accident risks:
Give other drivers plenty of room when driving on local roads;
Avoid tailgating, improper passing, and other aggressive behaviors;
Do not automatically assume other drivers can or will stop at intersections;
If another driver is tailgating you or otherwise driving erratically, the safest move it to get out of their way;
Pay attention and remain alert for potential problems that could cause accidents or even unexpected stops. 
When Injuries Happen, Contact Our Naples Car Accident Lawyer
It is common for car accident rates to spike in the aftermath of a natural disaster, such as Hurricane Ian. Mechanical issues due to water-damaged vehicles can make crashes more likely to happen. If you or someone you love is injured, contact Cardinal Law, P.A. Request a consultation to discuss your rights in filing a claim with our Naples car accident lawyer today.
Sources:
local10.com/news/local/2022/09/29/hurricane-ian-in-naples-flooding-damages-boats-cars-businesses-homes/
consumerreports.org/cars/buying-a-car/beware-a-flood-of-flooded-cars-a1195019046/