Halloween Safety Tips To Prevent Personal Injuries In Naples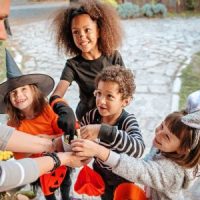 Halloween is a spooky time of the year, with haunted houses, horror movies, and the potential for either tricks or treats. The real fear, though, is personal injuries. Accidents generally increase at this time of the year and damage due to hurricane Ian increases the risks. Our Naples personal injury lawyer offers some safety tips to keep you and your loved ones safe.
How Parents Can Protect Children On Halloween
Little ghosts and goblins look forward to Halloween, as it provides the chance to dress up in costume and get bag full of treats. Even though some neighborhoods continue to struggle in the aftermath of Hurricane Ian, most are still making plans for trick-or-treating.
As a parent, it is important to be aware of the hazards children face. The Centers for Disease Control and Prevention (CDC) warns that Halloween is one of the most dangerous nights for children's pedestrian accidents. Slips and falls are a major concern as well. To reduce the risks, follow these tips:
Use caution when deciding on a costume: Avoid anything too long or elaborate. Rather than masks, which can obstruct vision, consider using modest amounts of make-up instead.
Increase your child's visibility: Consider using glow sticks or reflective tape in costumes and have children carry flashlights as they walk through the neighborhood.
Review their route: Check the route your child will take while trick-or-treating for traffic conditions, adequate sidewalks and crosswalks, and whether storm debris has been cleared.
Have an adult accompany little ones: Older children are generally safe to go out in groups, but young ones need to be supervised by an adult at all times.
Preventing Halloween Car Accidents And Other Personal Injuries In Naples
Children are not the only ones who enjoy celebrating Halloween. It is a favorite holiday for plenty of adults as well. While some events have been canceled due to hurricane Ian, the Naples Daily News still shows live music, haunted houses, and other themed activities going on throughout the month.
Whether you are walking, driving, or bicycling to events, it is important to follow some simple safety tips to protect yourself and others on the road:
As a motorist, be mindful of trick-or-treating hours in your neighborhood and remain alert anywhere children tend to gather.
Whether walking, biking, or driving, use caution, obey traffic signals, and find another way home if you have any amount to drink.
If you are hosting a party or other event, make sure parking lots and walkways are clear and well-lit to prevent slips or falls or other personal injuries and avoid overserving your guests.
When Accidents Happen, Contact Our Naples Personal Injury Lawyer
Despite taking precautions, the reckless actions of others can result in serious personal injuries. When accidents impact you or someone you love, Cardinal Law, P.A. is here to help you recover. To discuss your rights in filing a claim, call or contact our office online and request a consultation with our Naples personal injury lawyer.
Sources:
blogs.cdc.gov/publichealthmatters/2019/10/halloweentips/
naplesnews.com/story/entertainment/events/2022/09/30/events-things-do-naples-bonita-springs-october-2022/8080043001/