Avoiding 'No-Zones' Can Help Prevent Truck Accidents In Naples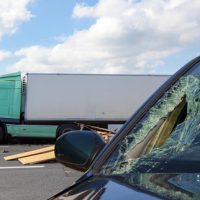 As clean-up efforts continue post Hurricane Ian, roads are increasingly congested. In addition to contractors and utility crews, there are also numerous truckers, bringing in supplies or hauling away wreckage. Unfortunately, this increases the risk of accidents. Our Naples truck accident lawyer explains about no-zones, which are something all motorists in our area need to be aware of.
What Are Truck No-Zones?
In the aftermath of Hurricane Ian, large construction vehicles, utility trucks, tractor-trailers, and other big rigs have become a common sight on local roads and highways. When sharing the road with these vehicles, be aware of potential dangers. Truck no-zones are one of the biggest causes for concern.
No-zones are large blind spots surrounding commercial vehicles, in which other motorists completely disappear from the truck driver's view. The Florida Department of Highway Safety And Motor Vehicles (FLHSMV) warns that driving in no-zones is a common cause of truck accidents resulting in serious, potentially life-threatening personal injuries. To protect yourself and your passengers, be alert to where truck no-zones are located:
In the front of a truck, extending out 20 feet in front of the truck cab;
Behind a truck, extending more than 30 feet from the rear of the trailer;
On the left side of a truck, running almost the entire length and width of the opposing lane;
On the right side of a truck, running from about midway through the cab to the trailer and extending out for two lanes.
Safety Tips For Avoiding Naples Truck Accidents
Our proximity along the coast and our location on Route 41 make truck accidents in Naples a serious concern. With the increased amount of trucks in our area due to Hurricane Ian, the risks are currently even greater than usual. To protect yourself when traveling and sharing the road with trucks, the Federal Motor Carrier Safety Administration (FMCSA) recommends following these tips:
Give truckers plenty of room: Avoid tailgating or cutting them off in traffic. In addition to concerns about no-zones, trucks are massive vehicles and take considerably longer to stop.
Avoid aggressive passing: It can be frustrating getting caught behind a slow moving truck. However, be sure and take your time and allow plenty of space when attempting to pass. Cutting them off could result in a major accident.
Be careful in parking lots: At big box stores, realize truckers need more space to maneuver and may not be able to see you when backing up.
Pay attention: You should avoid distracted driving in general, but particularly when sharing the road with a truck. Looking away for even a minute increases truck accident risks.
Contact Our Naples Truck Accident Lawyer
If you or someone you love is injured in a truck accident, Cardinal Law, P.A. provides the experienced legal representation you need when filing a claim. To find out how we can help you get the compensation you need to recover, contact our Naples truck accident lawyer online and request a consultation today.
Sources:
flhsmv.gov/safety-center/driving-safety/share-the-road/
fmcsa.dot.gov/sites/fmcsa.dot.gov/files/docs/ourroads/80251/driving-safely-around-cmvs.pdf