Six Common Ways Naples Truck Accidents Happen And How To Reduce Your Risks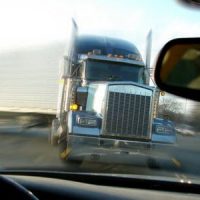 Truck accidents in Naples are one of the most devastating types of crashes. While the massive size and weight of most big rigs protect the truck driver, it is typically other motorists involved who often end up suffering the most serious, potentially life-threatening personal injuries. To reduce your risks, our Naples truck accident lawyer shares six common ways these crashes happen.
Common Types of Truck Accidents In Naples 
According to crash reports from the Florida Department of Highway Safety and Motor Vehicles (FLHSMV), over 2,000 truck accidents happen throughout the state each year. With Highway 41 passing directly through our area, local motorists here are at an increased risk.
To protect yourself and your passengers, it is important to be aware of how these crashes typically occur: There are six common ways in which truck accidents in Naples typically happen: 
Rollover Truck Accidents 
These are one of the most common and potentially deadly types of crashes, often impacting drivers in multiple lanes. Rollover truck accidents in Naples can happen when truck drivers go too fast around curves, strike curbs or other objects, or due to shifting and uneven cargo loads.
Jackknife Truck Accidents 
Another dangerous and potentially deadly type of crash, jackknife truck accidents in Naples often occur in heavy traffic conditions. When the truck driver slams on their brakes too suddenly, it can cause the truck trailer to ride out from the cab at a 90-degree angle, impacting motorists in nearby lanes.
Rear End Collisions
Rear-end truck accidents in Naples can happen in heavy traffic or on downgrades. Tire blowouts, brake failures, and other mechanical malfunctions make these crashes more likely to occur. In many cases, distracted driving plays a major role.
Side Swipe Truck Accidents 
These can happen when traveling alongside truckers on local roads and highways. They often occur due when traveling in truck 'no-zones'. The National Highway Traffic Safety Administration (NHTSA) advises that these are large blond spots that stretch out in front, behind, and on each side of commercial vehicles. 
Side Impact Truck Accidents 
Otherwise referred to as t-bone crashes, these are common in intersections and parking lots. Speeding, distracted driving, driving under the influence, and drowsy driving are all common causes.
Head-On Truck Accidents
One of the most devastating types of truck accidents in Naples, these often happen near highway entrances and exits. Drowsy, distracted, and drunk driving are common causes and these crashes frequently result in fatal injuries.
Our Naples Truck Accident Lawyer Protects You When Crashes Happen
Being aware of how truck accidents in Naples frequently occur and giving truckers plenty of room when sharing local roads can help to reduce your personal injury risks. When a crash or collision does happen, you can count on Cardinal Law, P.A. to protect your rights to compensation. To request a consultation with our Naples truck accident lawyer, call or contact our office online today.
Sources:
flhsmv.gov/pdf/crashreports/crash_facts_2020.pdf
one.nhtsa.gov/nhtsa/Safety1nNum3ers/july2015/S1N_July15_LargeTrucks_3.html