Car Accidents In Naples: Why Teen Drivers Are Most At Risk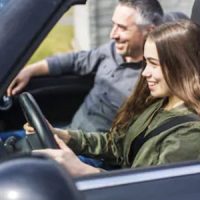 As a driver, avoiding reckless behavior and knowing how to respond in unexpected situations can help prevent car accidents in Naples. When it comes to teen drivers, their age and general lack of experience are a liability. Our Naples car accident lawyer explains more about the risks.
Car Accidents A Leading Cause of Death Among Teens
According to the Centers for Disease Control and Prevention (CDC), car accidents are one of the leading causes of death among teens. Even in non-fatal crashes, injuries suffered by teens have the potential to be debilitating.
Nearly 2,500 teens are killed in car crashes each year throughout the United States, while more than 250,000 suffer serious personal injuries. Young people between the ages of 15 and 19 are among those most at risk and car accidents they are involved in result in close to $5 billion in medical costs and lost wages. Some of the most common causes include:
General lack of experience: Being fairly new to driving, teens are less likely to be familiar with the rules of the road, how to handle rain, heavy traffic, or other adverse events, and what to do in case of emergencies.
Lack of maturity: Teens are still developing both physically and mentally. An overall lack of maturity makes them more likely to make mistakes, get distracted, or engage in dangerous driving behaviors.
Peer pressure: More than anything, most teens want to be admired and respected by their peers. This can cause them to show off behind the wheel. Speeding, running red lights, and racing other vehicles are among the most common traffic infractions involving teens.
Alcohol or drug use: Young people may experiment with drugs and alcohol, particularly when out with their friends. Unfortunately, they are more likely to suffer major impacts and less likely to rely on ridesharing services or other options to get home. This increases the risk of DUI-related crashes.
Teen Drivers Put Other People At Risk
Inexperience and dangerous driving behavior on the part of teens puts them at increased risk of potentially severe car accident injuries. It also endangers their passengers and others on the road.
Studies by the American Automobile Association (AAA) shed some important insight on how teen car accidents can affect multiple other people:
Teen drivers are overall more likely to have passengers in their vehicles;
Teen car accident risks dramatically increase when other people are driving with them, likely due to distraction and wanting to show off for friends;
When a teen car accident does occur, it often involves other motorists;
These other drivers and their passengers often end up suffering severe personal injuries as well.
Contact Our Naples Car Accident Lawyers Today
If you or someone you love is injured in a teen car accident in Naples, reach out to Cardinal Law, P.A. To discuss how you can get the compensation you need to recover, contact our Naples car accident lawyers today and request a consultation.
Sources:
cdc.gov/transportationsafety/teen_drivers/teendrivers_factsheet.html
aaafoundation.org/teen-driver-risk-relation-age-number-passengers/