Devastation Due To Hurricane Ian Increases Car Accident Risks In Naples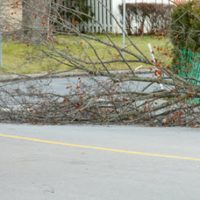 Residents in our area are reeling from the effects of Hurricane Ian. During the demanding and difficult recovery process,  it is important to take extra precautions to protect yourself. This is particularly important while behind the wheel. Our Naples car accident lawyer explains dangers to be alert for and how to keep yourself and your passengers safe.
Driving Hazards In The Aftermath Of Hurricane Ian
Hurricane Ian left a path of destruction along the Paradise Coast and Naples was one of the harder hit communities. Many roads remain impassable, while others are in desperate need of repairs. The City of Naples has road crews working around the clock, while extra law enforcement helps in maintaining order.
During this difficult time, drivers are encouraged to use extra precautions. Hazards to be alert for include:
Wet, flooded roads: Wet roads and patches of flooding throughout our community pose major risks.
Road debris: Many roads are still blocked with storm-related debris.
Power outages: Traffic lights may not be working at intersections. Be alert for downed power lines as well.
Reckless drivers: Unfortunately, shock and exhaustion in the aftermath of the storm make reckless driving more likely to happen.
Tips To Stay Safe When Out On The Road
According to statistics from the Florida Department of Highway Safety and Motor Vehicles (FLHSMV), more than 5,000 car accidents in Collier County happen each year. The risks increase in the aftermath of a storm. To protect yourself and your passengers against car accident injuries in Naples, take extra precautions and follow these tips:
Avoid making any unnecessary trips: Roads throughout the region have been impacted by Ian. If you are in one of the more hard-hit areas, avoid unnecessary trips and only drive as needed.
Let someone know your itinerary: Before heading out on the road, even for relatively short trips, let a friend or family member know your itinerary and what time you are expected to be home.
Check for road closures before you go: Check local news or government websites for road closures if traveling to other storm-impacted areas.
Allow plenty of time to reach your destination: Speeding is one of the most common causes of car accidents and increases the risk of potentially fatal injuries. Post-storm, be prepared to go much slower than usual.
Focus on driving: It is natural to be distracted by all the devastation and work going on around you, but it is vitally important to remain focused on the road.
Be mindful at intersections: Use extra caution at intersections and never assume others will stop or yield.
Reach Out To Our Naples Car Accident Lawyer
Due to exhaustion and dangerous road conditions caused by Hurricane Ian, car accident rates are likely to increase. If you or someone you love is injured, reach out to Cardinal Law, P.A. During this difficult time, we provide the trusted legal guidance you need in filing a claim. Call or contact us online and request a consultation with our Naples car accident lawyer today.
Sources:
naplesgov.com/
flhsmv.gov/pdf/crashreports/crash_facts_2020.pdf