Do's And Don'ts When Filing A Naples Personal Injury Claim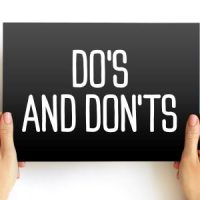 Personal injuries in Naples are generally attributed to 'accidents'. They can happen in a variety of ways but typically have one common factor, which is that the negligence of others is to blame. Our Naples personal injury lawyer holds those at fault accountable and provides the experienced legal representation victims and their families need to get compensation. The following are important dos and don'ts when filing a claim.
Find Out What To Do When Personal Injuries In Naples Happen
Statistics from the Florida Department of Health show that more than 20,000 people visit local hospital emergency rooms as a result of personal injuries in Collier County each year. Among the leading causes include motor vehicle crashes, impacting drivers, passengers, bicyclists, or pedestrians, and premises liability claims, such as slips and falls.
These generally happen due to negligence. When others take actions that put you at risk or fail to take reasonable precautions, you have the right to hold them liable for costs you incur as a result. When filing a personal injury claim, do the following to protect your rights to compensation:
Do report the accident immediately to the police, property owner, or other authority.
Do make sure an accident report is filed and provides important details, such as the time and location of the incident and the names of everyone involved.
Do collect evidence at the scene, if possible, such as photos or videos and contact information for witnesses.
Do seek immediate medical care for your injuries, regardless of severity, and follow your doctor's instructions regarding treatment and work or other activity restrictions.
Do get legal guidance from an experienced Naples personal injury lawyer before making statements to insurers or accepting a settlement.
We Protect Your Rights In Filing A Naples Personal Injury Claim
If you suffer personal injuries in Naples and others are to blame, you have the right to hold them accountable either through an insurance settlement or by filing a personal injury lawsuit through the Collier County Civil Court. As experienced Naples personal injury lawyers, we protect you throughout the process, helping you get the maximum amount you are entitled to in a settlement. The following are some activities in the aftermath that we advise our clients to avoid:
Do not discuss the details surrounding your claim with anyone, including friends or business acquaintances.
Do not post on social media until your claim is resolved.
Do not go back to work or resume other activities before your doctor clears you to do so.
Do not accept any settlements without discussing it with our office first.
Contact Our Naples Personal Injury Lawyer Today
Once you accept a personal injury settlement, you waive the right to any additional compensation. To avoid out-of-pocket costs, speak with the Cardinal Law Firm first. Our experienced Naples personal injury lawyer helps you get the maximum amount you need to recover from your injuries. Call or contact us online and request a consultation today.
Sources:
flhealthcharts.gov/ChartsReports/rdPage.aspx?rdReport=ChartsProfiles.NonFatalEDVisitsProfileDASHBOARD
collierclerk.com/court-divisions/civil-court/