How To Get Compensation For A Car Accident In Naples Involving An Uninsured Driver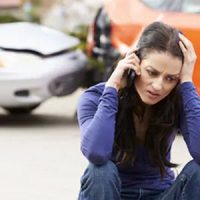 Auto insurance helps to protect you in the event of a car accident in Naples, helping to offset property damages, medical expenses, and other costs you or other drivers involved incur. Unfortunately, many motorists in our area do not have the required coverage in place. This can leave you stuck and holding the bill when a crash does happen.  Our Naples car accident lawyer explains more about this common problem and how to get the compensation you deserve.
Uninsured Drivers Pose Serious Risks In Naples
The Florida Department of Highway Safety and Motor Vehicles (FLHSMV) requires that all motorists have mandatory minimum amounts of auto insurance coverage in place. This helps protect them and others on the road in the event a car accident happens. Proof of insurance must be provided when registering a vehicle. However, it is not uncommon for people to let these policies lapse, or even fail to register their car to begin with.
Driving without insurance poses serious risks to victims of car accidents in Naples, leaving them with few options for obtaining compensation needed to recover from their injuries. Among the most common reasons for drivers fail to have insurance coverage:
They mistakenly allowed their policy to lapse;
They were unable to afford the high cost of insurance premiums;
They are unable to get insurance due to prior car accidents or traffic violations;
They have had their license suspended, such as due to DUI, and are unable to get insurance or register their vehicle.
When Uninsured Driver Car Accidents In Naples Happen
According to the Insurance Information Institute (III), Florida has one of the highest uninsured driver rates in the country. More than 20 percent of all motorists lack the required coverage. This means you have a roughly one in five chance of being injured in a crash involving an uninsured motorist. In the event this happens, it is important to take steps to protect yourself:
As with any crash, report the accident immediately to the police;
Get the name and contact information of the driver, as well as any witnesses at the scene;
Seek medical care right away, regardless of the severity of your injuries;
Contact our Naples car accident lawyer for help in filing a civil claim.
Even though the at-fault driver does not have insurance, you may be entitled to compensation through a car accident lawsuit. We can guide you through the process, negotiate the best possible settlement, and help ensure any final amounts awarded are fully paid. Legal actions we can take against the driver to enforce a final judgment include wage garnishment, property liens, and asset seizure.
Contact Our Naples Car Accident Lawyer And Request A Consultation
At Cardinal Law, P.A., we provide caring support and professional legal representation to people injured in car accidents in Naples involving uninsured drivers. Let us help you get the compensation you need to recover. Contact our Naples car accident lawyer and request a consultation today.
Sources:
flhsmv.gov/insurance/
iii.org/fact-statistic/facts-statistics-uninsured-motorists