Hurricane Debris And Clean-Up Crews Continue To Increase Naples Car Accident Risks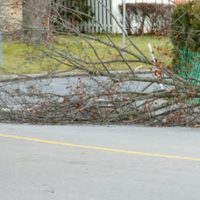 Hurricane Ian hit Naples in September of 2022, causing extensive damage. Debris from the storm remains a problem while large trucks, trailers, and other construction vehicles continue cleaning up and making needed repairs. Our Naples car accident lawyer explains how both can increase the risks for motorists.
Road Debris Poses Major Risks For Drivers
According to studies conducted by the American Automobile Association (AAA), road debris poses significant risks to motorists. In 2000, more than 25,000 vehicles were involved in debris-related crashes. This number doubled in 2010. Based on increases in cars and traffic in recent years, the numbers today are likely to be three or four times as high.
Road debris can happen due to littering, not properly securing loads on trucks and trailers, or due to adverse weather events, such as storms or hurricanes. The AAA reports that this can pose different types of risks to motorists:
Being struck by falling debris while driving local roads;
Colliding with road debris in the middle or on the side of the road;
Being involved in a crash caused by other motorists swerving to avoid debris.
While clean-up efforts in the aftermath of Hurricane Ian have made tremendous progress, motorists still need to be alert for road debris and aware of the hazards it can pose to them and other drivers.
Clean-Up Crews Continue To Create Hazards On Local Roads
A March 3, 2023 report from the News-Press details some of the Hurricane Ian-related hazards that continue to increase the risks of car accidents in Naples. After a recent crash that happened on Interstate 75 in Collier County involving a collision between a van and a four-by-four vehicle, journalists set out to investigate.
They reported that while more than 225 tons of hurricane-related debris and litter had been collected from the Interstate alone in January and March, it continues to be a problem. However, they claim an even bigger issue is the amount of traffic congestion. They report that the road remains clogged with flatbeds, trailers, and construction and contractor trucks, even roughly half a year after the storm. Between the sheer amount of these vehicles and their massive size, it makes the following crashes more likely to happen:
Rollover truck accidents, due to improperly distributed loads;
Blind zone truck accidents, in which motorists driving alongside large trucks disappear from the driver's view;
Jackknife accidents, which can happen when a trucker suddenly brakes in traffic;
Rear-end, side impact, and t-bone truck collisions, due to dangerous driving behaviors such as speeding, tailgating, and failure to follow traffic signs and signals.
Injured In A Crash? Contact Our Naples Car Accident Lawyer
When personal injuries happen due to road debris or large trucks and construction vehicles, getting the compensation you need to recover often proves challenging. At Cardinal Law, P.A., we guide you through the complex process of filing a claim. Reach out and contact our Naples car accident lawyer to request a consultation today.
Source:
aaafoundation.org/prevalence-motor-vehicle-crashes-involving-road-debris-united-states-2011-2014/
news-press.com/story/news/local/2023/03/03/interstate-75-in-fort-myers-naples-a-hot-spot-for-debris/69914048007/