Protecting Your Child Against Personal Injuries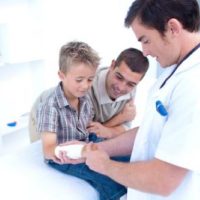 As a parent, you do everything within your power to protect your children. Unfortunately, the reckless and negligent actions of others could put them at risk. Personal injuries are common among children and can end up having long-term impacts on their current and future health. Our Naples personal injury lawyer shares some of the most common causes and how to protect your child in the aftermath.
Common Causes of Children's Injuries
Personal injuries are often referred to as accidents, but the fact is negligence on the part of others is generally involved. According to the Centers for Disease Control and Prevention (CDC), these claim the lives of more than 7,000 children each year while causing serious harm to hundreds of thousands of others. Among the most common causes include:
Car, bike, and pedestrian accidents, typically caused by reckless driving on the part of motorists;
Accident drownings, due to lack of supervision;
Suffocation, often caused by dangerous or defective toys and household products;
Burn injuries, due to a lack of safety precautions and negligence on the part of property owners;
Slips and falls, caused by wet floors, uneven walkways, cluttered halls, lack of handrails on steps, and lack of guardrails at heights.
Children's injuries are also common when engaging in sports and recreational activities. In many cases, coaches, program coordinators, or others involved are to blame.
Protecting Your Child In The Aftermath Of Personal Injuries In Naples
When personal injuries happen to children, the impacts can be severe. Broken bones, torn muscles or tendons, and injuries to the head, back, or neck can impact their health and well-being for years after. It can make matters worse for parents to know these injuries could have been prevented.
In cases involving negligence, you have a right to hold at-fault parties accountable. Compensation may be available through insurance policies they have in place, but insurers are often quick to either deny or dispute claims. Even if a settlement is offered, it is likely to be less than you deserve. Often, the best way to protect your child and provide for their recovery is by filing a personal injury lawsuit through the Collier County Civil Court. Compensation available includes:
Economic damages, covering actual costs associated with their injuries. This includes current and future medical expenses, your lost wages, and any lost income their injuries are likely to cause them in the future.
Non-economic damages, which compensate you for intangible losses. This includes pain, suffering, scarring, disfigurement, and any lost enjoyment in life your child experiences.
Punitive damages, which is an additional amount we can push for in cases where the at-fault party was grossly negligent.
Request A Consultation With Our Naples Personal Injury Lawyers
Personal injuries suffered by children can end up impacting their health and well-being for years after. At Cardinal Law, P.A., we help you get the compensation needed to cover current and future expenses. To request a consultation with our Naples personal injury lawyers, call or contact our office online today.
Sources:
cdc.gov/injury/features/child-injury/index.html#:~:text=Leading%20causes%20of%20child%20unintentional,Child%20injury%20is%20often%20preventable.&text=In%202018%E2%80%932019%2C%20child%20unintentional,Male%20children
app.collierclerk.com/court-divisions/civil