Road Construction-Related Car Accidents In Naples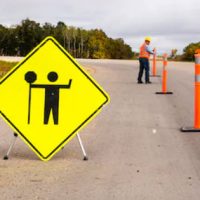 With summer here, traffic on local roads is at a peak. Many of these motorists are visitors to the area, making them more likely to get confused about directions. Road construction projects, common at this time of year, make things more complicated and can increase the odds of car accidents in Naples. Our Naples car accident lawyer explains more about the potential dangers of driving through construction zones and how these types of crashes can result in serious personal injuries.
How Construction Zones Increase Accident Risks
According to the Federal Highway Administration, construction zone accidents most frequently occur in the summer or fall. These put not only road construction crews at risk, but motorists traveling through construction areas as well.
Road construction-related car accidents claim the lives of more than 1,000 people each year while causing serious harm to more than 500,000 others. Factors that make them more likely to happen include:
Changes in familiar traffic patterns create confusion: Confused drivers can more easily make mistakes that lead to serious accidents.
Construction zones often result in traffic delays: Many drivers become frustrated, angry, and impatient as a result of these delays and engage in aggressive behavior that jeopardizes other motorists.
Limited space due to heavy construction equipment: This allows little room for error and increases the risk of side swipes and other types of crashes.
Road construction debris: Large amounts of dust can limit drivers' visibility while loose gravel decreases tire traction. Other types of debris can strike motorists or cause swerving that triggers multi-vehicle collisions.
Safety Tips For Drivers
When driving in a road construction zone, it is important to use caution. Following a few simple safety tips can help to reduce the risks of construction-related car accidents in Naples. The National Highway Traffic Safety Administration (NHTSA) recommends the following:
Practice basic defensive driving;
Decrease your speed;
Avoid any type of distraction and be aware of what is happening around you at all times;
Allow at least one car length between you and the driver in front of you;
Brake early and often to reduce rear-end collision risks;
Obey all traffic signs and signals and be alert for construction flaggers.
Use particular caution when driving through road construction zones at night. Even if road crews are not working on a particular project, there may still be debris and unexpected lane changes. Many construction projects in our area are ongoing. Check the Collier County Department of Transportation before heading out to see if your route is impacted.
Request A Consultation With Our Naples Car Accident Lawyer
Road construction zone car accidents in Naples are unfortunately common and can cause serious personal injuries. When negligence on the part of others is responsible, you have the right to seek compensation.  At the Cardinal Law Firm, we provide the experienced, professional legal representation you need to get compensation in a claim.  To request a consultation, call or contact our Naples car accident lawyer online today.
Sources:
safety.fhwa.dot.gov/wz/resources/fhwasa03012/
nhtsa.gov/sites/nhtsa.gov/files/workzones.pdf
colliercountyfl.gov/government/public-utilities/government-facilities/major-projects?locale=en