Spring Break-Related Accidents: What To Do If You Suffered Personal Injuries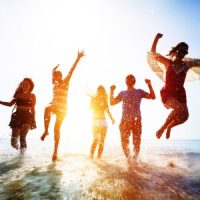 Spring break brings tens of thousands of tourists to our area, many of them high school or college students. Tourist season always tends to bring an increase in personal injuries, but accidents are more likely among younger visitors. Our Naples personal injury lawyer explains some of the most common hazards and what to do if you were involved in any type of accident during your trip.
Common Types Of Spring Break Hazards
Spring break is one of the busiest times of year in Naples. Many young people use it as a means of blowing off steam prior to the hectic end of the semester. Unfortunately, their age and inexperience can lead to dangerous oversights and lapses in judgment, making them more likely to be involved in accidents. While Florida Travel credits the Naples area with being one of the safest places in the state for spring breakers to travel, there are still some common hazards they need to be aware of:
Overindulging in alcohol: While Naples may not see the same types of huge, alcohol-soaked spring break parties as some other places, there is still a tendency among young people to overindulge while they are here.
Lack of sleep: Spring breakers often forgo sleep for the sake of fitting in lots of activities. Unfortunately, getting anything less than eight hours can cause the same types of impairments as being under the influence.
Distractions: Spring breakers are easily distracted by the sights and sounds associated with the beach. This increases accident risks.
Reckless behavior: Spring breakers are more likely to engage in reckless and potentially dangerous behavior, particularly if friends are egging them on.
What To Do If You Suffered Personal Injuries Over Spring Break
Accidents involving cars, boats, scooters, bicyclists, and pedestrians are all more common over spring break than at other times of the year. Unfortunately, these can have major impacts on victims long after their trip.
Anytime an accident happens, it is important to report it to the police and seek medical care immediately. If you suffer personal injuries while here on spring break, it is important to be aware that under the Florida Statutes, you generally have up to four years after your injuries to file a claim.
Even if you were partially at fault, you may be entitled to compensation. To protect your rights, follow these steps:
Get copies of any police or incident reports filed after your accident;
Get copies of records from medical facilities in Naples you may have visited;
Follow up with your own doctor once at home and follow all their instructions;
Keep records regarding how your injuries impact your life and the expenses you have incurred as a result.
Contact Our Naples Personal Injury Lawyer
If you suffered personal injuries in Naples over spring break, reach out to Cardinal Law, P.A. We provide the trusted legal guidance you need in seeking compensation. Call or contact us online today to speak with our Naples personal injury lawyer.
Sources:
floridatravel.blog/2023-perils-of-spring-break-in-florida/
leg.state.fl.us/Statutes/index.cfm?App_mode=Display_Statute&URL=0000-0099/0095/Sections/0095.11.html