Children's Sports Injuries: How To Protect The And Your Rights In Filing A Naples Personal Injury Claim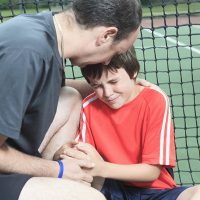 With children back in school, many parents are busy chauffeuring them to practices and games. School sports and recreational activities keep children busy, are an excellent way to keep them physically fit, and teach important lessons about teamwork and perseverance. However, they can also put young players at risk for serious, potentially debilitating personal injuries. Our Naples personal injury lawyer offers safety tips on how to protect them and your rights in filing a claim.
How To Protect Young Athletes
According to the Centers for Disease Control and Prevention, over half of all children between the ages of six and 17 participate in some type of sports activities, either sponsored through schools or local recreational centers. Football, baseball, track, soccer, and gymnastics are all popular activities among young people and can teach important lessons while potentially paving a path to school scholarships and a lucrative career. However, it is important to be aware of the risks.
Serious personal injuries can happen while engaging in youth sports and recreational activities, which can impact the health of young people now and for years into the future.  Johns Hopkins Medicine encourages taking the following steps to protect them:
Meet with program coordinators, coaches, and staff personally;
Make sure they have up-to-date contact information;
Insist on being informed immediately if any type of accident or injury happens;
Review safety precautions in place, including the use of protective gear;
Make sure students have appropriate surfaces for play;
Enquire about any training provided and how children warm up at practices;
Review program guidelines to ensure they discourage any type of aggressive behavior on the part of players or their parents.
In addition to the above, make sure children are shielded from the sun and have access to water to prevent dehydration. Program policies should also include provisions requiring injured players to be cleared by a doctor before returning to play.
Compensation For Children's Sports Injuries
Concussions, broken bones, muscle strains and tears, and injuries to the back or neck are all common among young athletes. In addition to immediate medical costs, these injuries can have long-term impacts on your child's health, requiring ongoing care and physical rehabilitation.
When they happen due to negligence on the part of program coordinators, coaches, staff, or other players, you have the right to hold those at fault accountable in a personal injury claim. To protect your child and your rights to compensation, follow these steps:
Notify program coordinators any time injuries happen;
Get details regarding where and how it occurred;
Seek immediate medical attention for your child, regardless of the severity of their injuries;
Keep records of all medical expenses and other costs incurred.
Contact Our Naples Personal Injury Lawyer
At The Cardinal Law Firm, we help you get the compensation your child needs to recover from sports and recreational injuries. Call or contact our Naples personal injury lawyer online and request a consultation today.
Sources:
cdc.gov/nchs/products/databriefs/db441.htm
hopkinsmedicine.org/health/wellness-and-prevention/sports-safety-for-children