Night Driving An Issue? How To Reduce Naples Car Accident Risks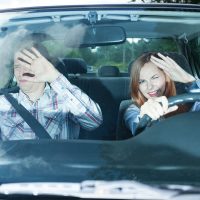 If you suffer from night blindness and have difficulty driving after dark, you are not alone. It is a common problem that poses serious hazards to motorists. In dealing with it, you may try to stay off the road after a certain time, but this becomes more difficult in the fall when Daylight Savings Time ends. Our Naples car accident lawyer explains more about the risks and offers strategies to help keep you safe on the road.
After Dark Is The Most Dangerous Time To Drive
According to the National Safety Council (NSC), after dark is the most dangerous time to be on the road. While drunk drivers and drowsing driving are common problems motorists are likely to encounter, one of the biggest hazards concerns night blindness.
Most people have difficulty seeing after dark, and for some motorists, it can seriously impact their driving abilities. Even a relatively minor case of night blindness can cause the following problems on the road:
Inability to see the road in front of you and to stay in your lane;
Difficulty seeing the dashboard and how fast you are traveling;
Increased glare, making it harder to see other motorists;
Momentary blindness due to street lights and the head or tail lights of other motorists.
All of the above make car accidents in Naples more likely to happen. Unfortunately, while night blindness is a major issue for drivers year-round, it is even more of a problem in the fall. As Daylight Savings Time ends on November 5, 2023, it will get dark earlier and stay dark longer, impacting motorists commuting to or from work and running errands in the evening.
Strategies For Dealing With Night Blindness
The American Academy Of Ophthalmologists advises that while it is generally harder for all of us to focus and see after dark, it can be particularly difficult for people who wear glasses, suffer from cataracts or glaucoma, or have diabetes and other types of chronic illnesses.
If night blindness is a problem, you may want to limit the amount of time you spend driving after dark. However, this is not always possible. Other precautions you can take to deal with night blindness and reduce Naples car accident risks include:
Report night blindness to your family doctor;
Get your vision checked;
If you wear glasses, choose anti-glare lenses;
Turn down the light setting on your dashboard;
Make sure your windshield is clean and free of streaks;
Avoid looking directly at street lamps or into the head or brake lights of drivers nearby.
Contact Our Naples Car Accident Lawyer
Car accidents in Naples tend to increase during the fall when it gets dark earlier. If you or someone you love is injured in a crash, Cardinal Law Firm provides the trusted legal guidance you need to get compensation. To protect your rights in filing a claim, contact our Naples car accident lawyer and request a consultation today.
Sources:
nsc.org/road/safety-topics/driving-at-night
aao.org/eye-health/news/shedding-light-on-night-blindness