Tips To Prevent Pedestrian Accidents In Naples Over Halloween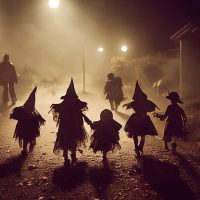 Residents of Naples look forward to the lower temperatures in October and the abundance of fall-themed events throughout our area. Of course, one of the highlights of the season is Halloween. Whether you will be hitting local haunted houses, watching scary movies, hosting costume parties, or have children looking forward to trick-or-treating, be aware of some of the real hazards at this time of year.
Pedestrian accidents increase at Halloween and have the potential to cause devastating harm. To reduce your risks, follow tips from our Naples pedestrian accident lawyer.
Make Safety A Priority This Halloween In Naples
Halloween is one of the most fun times of the year. The Naples Daily News provides a long list of Halloween events in our area. However, before attending, we recommend taking the following precautions:
If you are taking little ones, make plans to remain together and have an emergency meetup location selected in advance, just in case someone gets lost;
Be very cautious when walking through parking lots and stay alert for drivers backing out of or pulling into spaces;
When driving near Halloween happenings or in neighborhoods hosting trick or treating, go below posted speeds, stay alert at all times, yield to pedestrians in crosswalks, and keep an eye out for little ghouls and goblins that suddenly dart into the road.
Make safety a priority when creating costumes as well. Use makeup rather than masks, which can impede your vision, and make sure outfits are not too long and don't drag on the ground, where they can pose trip hazards. If going out at night, consider using a flashlight or glow sticks to increase visibility and attach reflectors to children's clothes.
Keeping Roads in Naples Safe This Halloween
Car, bike, and pedestrian accidents in Naples are all unfortunately common and pose major risks to residents. Even a seemingly minor crash or collision can result in devastating personal injuries. Unfortunately, the hazards tend to increase over Halloween.
The holiday is one of the most common nights of the year for pedestrian accidents, many of which involve children. The Florida Department of Highway Safety and Motor Vehicles (FLHSMV) urges all residents to be aware of the dangers and to take precautions. This includes:
Accompany small children out trick-or-treating and making sure older ones go with a group;
Remind them to never assume a driver sees them or will stop;
Provide adequate lighting around your driveway to increase visibility;
If you are hosting a party, avoid oversharing guests;
If you or a friend has too much to drink, avoid driving, biking, or walking and rely on ridesharing or other means to get home.
When Injuries Happen, Contact Our Naples Pedestrian Accident Attorney
If you or someone you love is injured in a pedestrian accident in Naples, the Cardinal Law Firm provides the trusted legal guidance you need in filing a claim. To request a consultation, contact our Naples pedestrian accident attorney today.
Sources:
naplesnews.com/story/entertainment/events/2023/09/29/things-to-do-in-naples-in-october-halloween-fun-theater-season/70960955007/
flhsmv.gov/safety-center/driving-safety/halloween-safety/#:~:text=Always%20use%20the%20crosswalks%20and,listen%20before%20stepping%20into%20roadways.