Overturns Pose Serious Car Accident Risks In Naples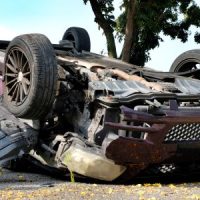 Car accidents in Naples can happen in a variety of ways. One common and particularly dangerous cause is overturn accidents. These can happen with trucks, delivery vans, SUVs, or any taller vehicle and often result in serious, potentially life-threatening personal injuries. Our Naples car accident lawyer explains more about these crashes and how they often occur.
Truck Overturn Accident In Collier County 
According to a July 8, 2022 Naples News report, a truck overturn accident happened in the northbound lanes of Interstate 75, near mile marker 77 in Collier County. It occurred due to a crash between a tractor-trailer and another vehicle. On impact, the truck overturned, spilling debris along the roadways and causing personal injuries for multiple drivers and passengers involved.
Unfortunately, truck accidents are one of the most common types of overturn crashes. Semi-trucks, tractor-trailers, and other big rigs are particularly susceptible. Common reasons for overturn accidents involving these vehicles include:
Uneven loading practices;
Unsecured loads, which can shift during a trip;
Mechanical failures, such as tire blowouts;
Speeding and going too fast around curves or making too sharp of turns;
Sideswipe accidents involving other motorists.
Overturn Accidents Involving Other Vehicles
Overturn accidents are a major risk for truck drivers. It is important for both truck drivers and trucking companies to take actions to reduce these risks. However, they are not the only vehicles they can happen to.
The National Highway Traffic Safety Administration (NHTSA) warns that any taller automobile is susceptible and that the higher center of gravity makes rollover accidents more likely to occur. Vehicles that are particularly susceptible include pick-up trucks, vans, campers or trailers, Jeeps, and any type of taller SUV. Speeding, swerving in and out of lanes, and tailgating other drivers, resulting in sudden stops or skids, can all increase the risk.
When an overturn accident happens, it often ends up impacting motorists in other lanes. Broken bones, severe cuts or lacerations, and injuries to the bead, back, or neck can result. There are two important things you need to be aware of when an overturn-related car or truck accident in Naples occurs:
If you are in another vehicle or otherwise impacted by a rollover accident: You may be able to hold both the driver and the vehicle manufacturer liable for the damages you suffer as a result.
If you are the driver of a vehicle that rolls over in a crash: There may have been nothing you did or could have done to prevent it. Faulty design and manufacturing errors may ultimately be to blame.
Contact Our Naples Car Accident Lawyer And Request A Consultation
Rollover car accidents are a common type of crash and can leave everyone involved suffering serious personal injuries. At Cardinal Law, P.A., we can investigate your case, determine how it happened, and hold those at-fault accountable. Let us help you get the compensation you need to recover from your injuries. Call or contact our Naples car accident lawyer online and request a consultation today.
Sources:
naplesnews.com/story/news/traffic/2022/07/08/northbound-interstate-75-closed-collier-county-after-crash-tractor-trailer/10012042002/
crashstats.nhtsa.dot.gov/Api/Public/ViewPublication/809438