Personal Injuries In Naples Due To Electrical Fires Increase After Hurricane Ian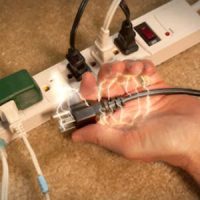 Naples residents took a heavy hit in September due to Hurricane Ian. While cleanup efforts are making great progress, officials want residents to know about potential new threats. Saltwater flooding causes extensive damage, including to electrical systems. Our Naples personal injury lawyer explains some of the potential risks and steps you can take to protect yourself and those you love.
Electrical Vehicle (EV) Fires Creating Problems In Naples
Electrical vehicles (EVs), which run on lithium-ion batteries, have become increasingly popular among residents of Naples. Unfortunately, in the aftermath of Hurricane Ian, these vehicles now pose a major threat. According to an October 2022 report by the National Fire Protection Association (NFPA), firefighters in our area have responded to at least six local blazes due to EVs that suffered damage due to storm-related flooding.
Vehicles that ended up getting caught and suspended in flood water are of particular concern. Contact between the lithium-based battery in these vehicles and salt water can cause a chemical reaction. Known as thermal runaway, it causes the batteries to heat uncontrollably. This can result in fires or a dangerous build-up of gasses, leading to explosions in closed-up areas, such as parking garages.
Unfortunately, there is no way of draining the combustible power from EV batteries. Instead, public safety officials are warning local firefighters to be alert to the situation and are encouraging EV owners to get their vehicles towed away from their homes or other public areas. Florida Senator Rick Scott recently reached out to EV manufacturers, urging them to take action to help EV owners and to provide additional guidance on how to reduce the risks.
How To Reduce Electrical Fire Risks
Unfortunately, it is not just electrical vehicles that are compromised by saltwater flooding. In the aftermath of Hurricane Ian, it is important for residents to be aware of how water damage may have compromised electrical safety in their homes. A recent condominium fire in Naples is an example. According to an October 19, 2022 ABC News 7 report, the blaze started in the building's electrical room.
If your home or business suffered any type of flooding or even water damage due to the heavy rains associated with Ian, follow some simple safety tips to protect yourself:
Get rid of flooded appliances or any electrical items that were immersed in water;
Check light sockets and electrical outlets for signs of water or other types of damage;
Replace fuses on circuit breakers as needed;
Avoid overusing extension cords or otherwise overloading electrical systems;
If in doubt, have an electrician conduct a post-hurricane safety inspection of your property. 
Our Naples Personal Injury Lawyer Is Here To Help
As Naples residents continue to recover from Hurricane Ian, new issues can arise that put your health and safety at risk. At Cardinal Law, P.A., we are here to help. Electrical fires can result in serious personal injuries. To discuss your rights in seeking compensation, call or contact our Naples personal injury lawyer online and request a consultation today.
Sources:
nfpa.org/News-and-Research/Publications-and-media/Blogs-Landing-Page/NFPA-Today/Blog-Posts/2022/10/19/Experts-Warn-of-Electric-Vehicle-Fires-After-Hurricane-Ian-Damages-Lithium-Ion-Batteries
abc-7.com/news/local/collier-county/2022/10/19/electrical-fire-sparks-at-vistas-condo-complex-in-naples/