Protect Your Health After Slip And Fall Injuries In Naples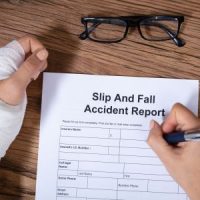 Slips and falls are one of the most common types of accidents, and personal injuries that result can have long-term impacts on every area of your life. In the aftermath, there are important steps you need to take to protect your health and your rights in a claim. Our Naples personal injury lawyer has extensive experience handling these cases and shares some tips.
Do Not Underestimate Slip And Fall Injuries
The Centers for Disease Control and Prevention (CDC) warns that older adults are among the most at risk for slip and fall accidents, but they can happen to anyone at any age. One out of every five cases results in broken bones, multiple fractures, head injuries, and other serious injuries.
It is important not to underestimate slip and fall accidents or the impacts they can have on your health. Even if you are suffering no obvious symptoms, seek medical care immediately. Common slip and fall injuries that have symptoms that can take hours or even days to show include:
Back and neck injuries, such as herniated discs;
Concussions and traumatic brain injuries;
Sprained, strained, or torn muscles and tendons.
Unfortunately, even relatively minor slips and falls in Naples can result in injuries that cause long-term disabilities. These can result in major costs while requiring ongoing medical care and preventing you from working or enjoying your favorite hobbies or other activities.
Protecting Your Rights When Slips and Falls In Naples
Slip and fall accidents in Naples often happen due to the negligence of property owners. Wet floors, torn carpeting, loose flooring tiles, and uneven sidewalks are all common causes. If you are in a public place or visiting someone's home when a slip and fall happens, you may have the right to hold the property owner liable.
Under the Florida Statutes, you may be entitled to compensation for medical expenses, lost wages, and other costs incurred as a result of slip and fall injuries. Depending on the circumstances, you may be able to seek compensation either through insurance the property owner has in place or by filing a premises liability claim. Steps you need to take to protect your rights in this situation include:
Report any type of slip and fall immediately to the property owner or manager;
Request that an accident report be filed;
Get the names and contact information of any witnesses who may have seen what happened;
Get the name of the property owner's insurance and a policy number;
Seek medical care immediately and follow all of your doctor's instructions regarding follow-up care and activity restrictions.
Contact Our Naples Personal Injury Lawyer
At Cardinal Law, P.A., we understand the serious impacts slips and falls can have on your life and help you avoid having to pay out of pocket for the costs involved. To discuss your rights in filing a claim, call or contact our Naples personal injury lawyer online and request a consultation today.
Sources:
cdc.gov/falls/facts.html
leg.state.fl.us/statutes/index.cfm?App_mode=Display_Statute&URL=0700-0799/0768/Sections/0768.81.html