Ways To Prevent Personal Injuries In Naples When Taking Uber Or Lyft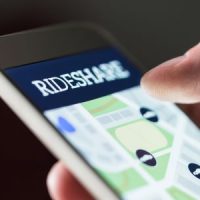 Uber, Lyft, and other ridesharing services offer a convenient way to get around town. Relying on these providers can help reduce drunk driving and saves you money in terms of vehicle maintenance, gas, and parking fees. However, it is important to be aware of the risks. Personal injuries as a result of ridesharing can happen in a variety of ways  Our Naples Uber-Lyft accident lawyer offers tips that can help reduce the risks.
How to Protect Your Personal Safety When Relying On Ridesharing Services
Ridesharing offers a safe way to get home after a night out drinking and is often used for trips to the airport or other errands. However, when relying on these services, make personal safety a top priority.
Cases involving kidnappings, assaults, and other crimes perpetrated by Uber or Lyft drivers have raised awareness of the potential hazards. To protect yourself, Uber offers the following safety tips:
Request your ride inside: Requesting a ride indoors and around others makes you less vulnerable to crime.
Double-check the vehicle: Ridesharing apps provide the make, model, and color of the vehicle, along with the license plate number. Double-check this information before getting in, and take a screenshot to share with family or friends.
Confirm the driver knows your name: Ask the driver, "Who are you here to pick up?" rather than telling them your name.
Sit in the back: This allows for personal space and can help in making a hasty exit from the vehicle in the event of trouble.
Trust your intuition: If something feels wrong, refuse to get in and call for another ride.
Protecting Yourself Against Uber and Lyft Accident Injuries In Naples
According to a Pew Research Center survey, close to 40 percent of all U.S. residents rely on ridesharing services regularly. Unfortunately, the increased demand has also increased Uber and Lyft accident risks. These can impact passengers, other drivers, bicyclists, or pedestrians.
Reckless and negligent behavior on the part of the driver, the company they work for, or other motorists involved may be responsible. When you suffer personal injuries as a result, you have the right to hold them accountable. To protect your rights to compensation, follow these steps if an Uber or Lyft accident in Naples occurs:
Notify the police immediately so an accident report can be filed;
Get contact and insurance information for all drivers involved;
Gather evidence, such as the names of witnesses and photos or videos of the scene;
Seek medical attention for your injuries as soon as possible;
Request a consultation with our Naples Uber and Lyft accident lawyer before speaking to insurers or accepting any settlements.
Contact Our Naples Uber and Lyft Accident Lawyer Today
Personal injuries suffered while taking Uber, Lyft, or other ridesharing services have the potential to be severe. To get the compensation you need to recover, get the Cardinal Law Firm on your side. Call or contact our office online to request a consultation with our experienced Naples Uber and Lyft accident lawyer today.
Sources:
uber.com/us/en/ride/safety/tips/
pewresearch.org/short-reads/2019/01/04/more-americans-are-using-ride-hailing-apps/