April Is National Distracted Driving Awareness Month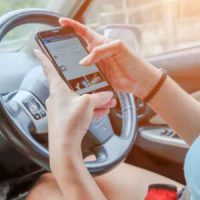 The month of April is designated as National Distracted Driving Awareness Month. It calls attention to a problem and a leading cause of car accidents in Naples. Distracted driving involves any activities that diverts your attention from the road and causes you to take your hands off the steering wheel. Find out more about the dangers, how to reduce your risks, and what to do if you are the victim of a distracted driving accident in Naples.
Distracted Driving In Naples: Be Aware Of The Risks
The National Safety Council (NSC) sponsors of Distracted Driving Awareness Month. Each spring, the agency works with local, state, and federal authorities to make drivers more aware of the problem and potential risks. An average of eight people each day are killed in distracted driving accidents while hundreds of others suffer serious personal injuries.
Distracted driving in Naples impacts more than just motor vehicle drivers. It is a common contributing cause in truck accidents, motorcycle crashes, and accidents involving bicyclists and pedestrians. Anything that causes you to take your hands off the wheel, your eyes off the road, or your mind off the complex task of driving increases the risks. This includes:
Texting and talking on cell phones;
Reading emails and posting on social media;
Taking pictures or videos;
Eating fast food or drinking coffee or other beverages;
Adjusting car stereo or GPS settings;
Attending to children in the back seat;
Reaching for items next to you or in your glove compartment.
What To Do If You Are The Victim Of A Distracted Driving Accident In Naples
Talking on handheld devices and texting while driving is a primary offense under the Florida Statutes. Unfortunately, that does not prevent it from happening. It may be obvious that another driver is distracted or you may need to be alert for signs, such as weaving in and out of their lane and running red lights. Give them plenty of space, be alert for unexpected actions, and pull over to alert authorities.
If you are the victim of a distracted driving accident in Naples, either as a motorist, bicyclist, or pedestrian, follow these tips:
Notify the police immediately;
Get the driver's name and their driver's license, insurance, and contact information;
Get names and contact numbers for witnesses at the scene;
Take photos of the accident site and your injuries, if possible;
Go to the local hospital emergency room or your doctor's office immediately for treatment, regardless of the severity of your injuries.
Contact Our Naples Distracted Driving Accident Lawyer
Filing a claim against a distracted driver and proving they were at fault can present challenges. At Cardinal Law, P.A., we can conduct a thorough investigation and gather needed evidence, such as witness statements, cell phone records, and footage from nearby surveillance cameras. To get our team working on your behalf, reach out right away. Give us a call or contact our Naples distracted driving lawyer online to request a consultation.