How Being Distracted Increases The Risk Car Accidents And Other Personal Injuries In Naples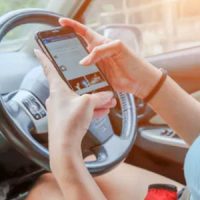 The ability to multitask is an important skill and one most people use both in their personal and professional lives. Unfortunately, the effort and concentration it requires to attend to different details and juggle numerous projects can negatively impact you in other ways. Your chances of suffering potentially serious personal injuries significantly increase when you are distracted. Our Naples personal injury lawyer explains more about the hazards and steps you can take to protect yourself.
Being Distracted Increases Car Accident And Other Personal Injury Risks 
Under the Florida Statutes, it is illegal to use a cellphone or other handheld device to make calls, text, take photos, send emails, or perform other tasks while you are behind the wheel. As a primary offense, police officers can pull you over if they suspect you are violating this law. To help reduce the high number of distracted driving car accidents in Naples that happen each year, officers are vigilant in enforcement efforts.
While most people are aware of how dangerous being distracted is while you are behind the wheel, they often are unaware of how it increases other personal injury risks. When you are distracted, you are less aware of your surroundings, less likely to spot subtle warning signs, and less able to respond properly when confronted with an unexpected and potentially dangerous situation. In addition to car crashes, other accidents in which being distracted can play a major role:
Pedestrian accidents;
Bicycle accidents;
Motorcycle accidents;
Golf cart accidents;
Sports and recreational accidents;
Slip, trip, and fall accidents;
Work-related accidents;
Accidents that happen near construction sites or other public places.
Reducing Distractions, Reduce Personal Injury Risks
While having a demanding job or numerous obligations in your personal life may make it necessary for you to multitask often, Psychology Today warns that it is important to be aware of the ways in which it can endanger your physical and mental health. In addition to leaving you feeling pressured and frequently frazzled, it can significantly increase personal injury risks and may jeopardize your overall health.
While personal injuries typically happen due to the negligent behavior of others involved, being distracted makes you more likely to be a victim. Ways to reduce your risks include:
Delegate authority and avoid taking on too much responsibility;
Make to-do lists, which can help clear space in your head;
Practice focusing on one thing at a time;
When walking, driving, cycling, or engaging in any type of physical activity, put other thoughts or activities on hold and pay complete attention to what you are doing and what is going on in the surrounding environment.
Contact With Our Naples Personal Injury Lawyer
Personal injuries can happen despite your precautions and generally due to the negligence of others involved. At Cardinal Law, P.A., we help you get the compensation you need to recover. Call or contact our office online to request a consultation with our Naples personal injury lawyer.
Sources:
leg.state.fl.us/statutes/index.cfm?App_mode=Display_Statute&URL=0300-0399/0316/Sections/0316.305.html
psychologytoday.com/us/blog/the-squeaky-wheel/201606/10-real-risks-multitasking-mind-and-body