How To Get Compensation For Soft Tissue Injuries In Naples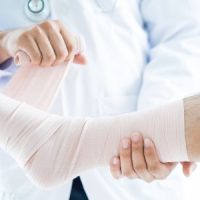 Muscle and tendon sprains, strains, and tears are one of the most common types of personal injuries in Naples. While they can happen for a variety of reasons, negligence on the part of others is often to blame. Recovery can be a lengthy process and victims may end up suffering long-term disabilities. Our Naples personal injury lawyer explains how to get compensation in a claim.
Recovery from Soft Tissue Injuries In Naples
Soft tissues include muscles, tendons, ligaments, and nerves that run throughout the body. They impact your mobility and how you perform a variety of tasks. When soft tissue injuries happen, it can jeopardize your health and financial security for years into the future. In many cases, negligence on the part of others involved is responsible.
According to the American Academy of Orthopaedic Surgeons (AAOS), sprains, strains, tears, and other common soft tissue injuries often occur as a result of one of the following:
Motor vehicle accidents, impacting drivers, passengers, bicyclists, and pedestrians;
Slip and fall accidents, or other mishaps that occur on another's property;
Sports and recreational accidents, often due to failure to take proper precautions and other types of negligence on the part of others involved.
It can take long months or even years to fully recover from soft tissue injuries. During this time, you may be unable to work, require physical therapy, and incur large amounts of medical expenses. When these injuries happen as a result of another's actions, they could be held liable for your costs.
 Filing A Soft Tissue Injury Claim 
When soft tissue injuries occur due to accidents in which others are at fault, you have the right to hold them accountable. Depending on the situation, they may have insurance in place to help cover your expenses. In cases where the at-fault party is uninsured or the amount of coverage fails to fully compensate you for your losses, you may be entitled under the Florida Statutes to file a personal injury lawsuit against them.
To protect your rights in a claim and to help ensure you get the full amount you need to recover, it is important to follow these steps:
Report any type of accident resulting in soft tissue injuries immediately to the proper authorities;
Seek medical care as soon as possible;
Follow all doctor instructions regarding testing, treatment, and activity restrictions;
Keep detailed regards regarding your injuries and the impact they have on your life;
Refrain from accepting any settlement offers until your injuries have had a chance to fully heal;
Ask your doctor to be specific about when you reach the maximum level of medical recovery and when any ongoing issues are likely to result in permanent disabilities.
Our Naples Personal Injury Lawyers Protect Your Rights
If you suffer soft tissue injuries in Naples, contact Cardinal Law, P.A. before accepting any settlements. To protect your rights in a claim, request a consultation with our Naples personal injury lawyers today.
Sources:
orthoinfo.aaos.org/en/diseases–conditions/sprains-strains-and-other-soft-tissue-injuries/#:~:text=The%20most%20common%20soft%20tissues,are%20common%20soft%2Dtissue%20injuries.
flsenate.gov/Laws/Statutes/2011/768.81