How To Reduce The Risks Of Golf Cart Accidents In Naples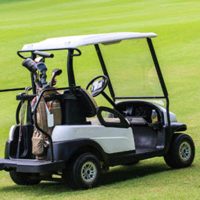 Golf carts are a way of life in Naples. Locals and visitors to our area rely on them for trips to the beach, for running errands, and for sightseeing trips around town. Despite being a fun form of transportation, golf cart drivers and passengers need to be aware of potential dangers. Golf cart accidents in Naples are unfortunately common and can result in devastating personal injuries. Find out more about these accidents, common injuries that can result, and how to reduce your risks.
Golf Cart Accidents Can Result In Devastating Personal Injuries 
Golf carts may seem like a harmless form of fun and a convenient way to get around. However, Health and Safety Magazine, published by the National Safety Council (NSC), reports that golf cart accidents are increasingly common.
As greater numbers of people invest in gold carts for use off the course, the number of golf cart accidents has steadily climbed. More than 10,000 people are seriously injured in golf cart accidents throughout the U.S. each year. Considering how popular they are in our area, the risk of golf cart accidents in Naples is high. While going too fast, driving on uneven surfaces, and making too tight of turns increases the likelihood of a crash, the most common cause is reckless behavior on the part of other motorists. With little to protect riders, serious personal injuries can result from even a minor golf cart accident. These may include:
Deep cuts and lacerations;
Multiple broken bones;
Soft tissue sprains, strains, and tears;
Whiplash and other back or neck injuries;
Head and traumatic brain injuries (TBI);
Injuries to the spinal cord or column.
Golf Cart Accidents In Naples: How To Reduce Your Risks
When golf cart accidents in Naples happen due to the reckless behavior of motorists, you have a right to hold them accountable in a claim. Auto or homeowner's insurance policies the golf cart owner has in place may help offset your damages, or you may be entitled to compensation through a personal injury lawsuit. To help reduce your risk of being involved in this type of crash, State Farm offers the following tips:
Read the owner's manual for your golf cart thoroughly;
Avoid overloading it with passengers;
Refrain from driving in high traffic areas;
Stick to designated trails and paved road surfaces;
Follow all traffic rules and regulations;
Never assume automobile drivers see you;
Use particular caution at intersections and never assume right of way
Avoid driving your golf cart if you have any amount of alcohol in your system.
Contact Our Naples Golf Cart Accident Lawyer
Golf cart accidents in Naples are unfortunately common and can result in potentially serious personal injuries. If you or someone you love is involved in a crash, reach out to Cardinal Law, P.A. We fight to get you the compensation you need to recover in a claim. Call or contact our Naples golf cart accident lawyer online today to request a consultation.
Sources:
safetyandhealthmagazine.com/articles/20884-study-finds-golf-cart-related-injuries-are-common
statefarm.com/simple-insights/auto-and-vehicles/golf-cart-safety-tips