Slips And Fall In Naples A Common Cause Of Personal Injuries Among Older Adults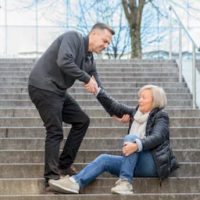 Slips and falls are one of the most common types of accidents and a leading cause of personal injuries in Naples. They can happen to people of all ages, but older adults are among those most at risk. Our Naples premises liability lawyer explains some of the serious repercussions they can have on your health and how property owners can be held liable.
For Older Adults In Naples, Slips and Falls Pose Serious Hazards
Numerous older adults reside in our area, and a variety of services are offered through Collier County to help protect and maintain their quality of life. However, if you are an older adult or have someone in your life who is, it is important to be aware of the risks regarding slip and fall accidents.
According to the Florida Department of Health, unintentional falls are the leading cause of fatal and nonfatal injuries among Florida residents ages 65 years and older. More than 3,000 older adults suffer fatal personal injuries each year as a result of slips and falls. Even a seemingly minor fall accident in Naples can have major consequences on the life of an older adult. This includes:
Limited mobility, impacting their ability to care for themselves;
Loss of independence and the need for nursing homes or other long-term care;
Personal injuries, such as hip fractures, that take long months to heal;
Adverse impacts on their general health and other chronic conditions they may suffer from, which can result in otherwise early death.
We Hold Negligent Property Owners Accountable
Older adults often have risk factors that make them more likely to experience slip and fall accidents in Naples. Reduced vision and coordination, difficulty maintaining balance, and certain medications can all make falls more likely to occur. However, negligence on the part of property owners is often ultimately responsible. Dangerous conditions that can put older adults at risk in grocery or retail stores, restaurants, office buildings, and other public places include:
Wet, slippery floors;
Damaged flooring materials;
Uneven sidewalks;
Cluttered aisles;
Dim lighting;
Lack of handrails on stairs.
When negligence on the part of a property owner or manager results in a slip and fall accident in Naples, you have the right to hold them accountable for medical expenses and other costs through a premises liability claim.
Contact Our Naples Premises Liability Lawyer
Older adult slips and falls in Naples can have major impacts. Personal injuries suffered have the potential to be severe, resulting in reduced independence and mobility, and may even hasten an otherwise early death. Sadly, negligence on the part of property owners is often responsible.
If you or someone you care about suffers a slip and fall accident in Naples, reach out to Cardinal Law, P.A. We help you hold those at fault accountable and get the compensation you are entitled to in a claim. To request a consultation with our Naples premises liability lawyer, call or contact us online today.
Sources:
colliercountyfl.gov/government/public-services/divisions/community-and-human-services-division/services-for-seniors
floridahealth.gov/programs-and-services/prevention/older-adult-falls-prevention/index.html
leg.state.fl.us/statutes/index.cfm?App_mode=Display_Statute&URL=0700-0799/0768/0768ContentsIndex.html