Naples Motorcycle Accidents: Get The Compensation You Deserve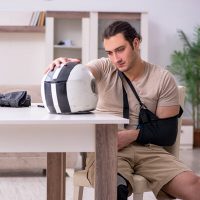 Motorcycle accidents in Naples are among the most serious types of crashes and can result in severe, potentially debilitating personal injuries. Unfortunately, they happen on an all too frequent basis and often due to negligence on the part of motorists involved. Our Naples motorcycle accident lawyer provides the caring support and comprehensive legal representation victims and their families need, helping them get a sense of justice and the compensation they deserve.
Motorcycle Accidents In Naples Can Have Tragic Consequences
A recent motorcycle accident in North Naples resulted in fatal injuries. According to a September 21, 2023 NBC 2 News report, it happened around 2:00 p.m. on a Friday afternoon, near the intersection of Livingston and Vanderbilt Beach Roads. Two cars and one motorcycle were involved. Police are still investigating the cause of the crash but have revealed the motorcyclist died as a result of their injuries.
Sadly, motorcycle accidents involving other motorists happen regularly, and it is typically bikers who suffer the most devastating impacts. Drivers often fail to appreciate the differences in how motorcycles handle, leading them to engage in dangerous behavior that puts motorcyclists at risk. This includes:
Following too closely;
Cutting them off in traffic or when passing;
Failing to yield;
Swerving in and out of lanes;
Speeding, running red lights, and other traffic infractions;
Driving distracted or while under the influence.
Get A Sense of Justice And The Compensation You Are Entitled To In A Claim
The Florida Department of Highway Safety and Motor Vehicles (FLHSMV) reports that an average of close to 75 motorcycle accidents in Collier County happen each year. In nearly ten percent of these cases, injuries suffered by motorcyclists end up proving fatal. Multiple broken bones, internal injuries, and deadly impacts to the head or spinal cord are common.
When the reckless and negligent actions of other road users are responsible, filing a claim against them can provide a sense of justice and the compensation victims and their families need to recover. Insurance the driver has in place can help to cover some of your costs. If a motorcycle accident in Naples results in catastrophic or fatal injuries, you have the right to file a lawsuit against them and anyone else involved. The compensation you may be entitled to includes:
Economic damages, covering property damage, all medical expenses, lost wages, and future lost earnings and benefits;
Non-economic damages, covering pain, suffering, loss of companionship, and lost enjoyment in life;
Punitive damages, which we can push for if the driver's behavior was particularly willful and negligent.
Request A Consultation With Our Naples Motorcycle Accident Lawyer
Serious, potentially debilitating personal injuries often happen due to motorcycle accidents in Naples. At the Cardinal Law Firm, we help you get the compensation you are entitled to and a sense of justice in holding the at-fault driver accountable. To get the caring support and comprehensive legal representation you need, reach out and call or contact our Naples motorcycle accident attorney online to request a consultation today.
Sources:
nbc-2.com/news/2023/09/22/1-dead-after-motorcycle-crash-in-naples/
flhsmv.gov/pdf/crashreports/crash_facts_2020.pdf