Four Common Types Of Construction Site Accidents In Naples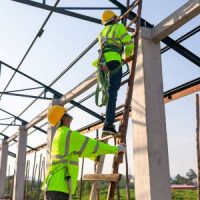 Just about anywhere you go in Naples, you are likely to encounter construction. Road crews are constantly making improvements to local infrastructure and construction companies keep busy working on new development, while independent contractors are still making repairs post Hurricane Ian. All can pose serious risks to workers, as well as to passersby in the area. Our Naples construction accident lawyer explains four common ways in which personal injuries can happen.
Construction Site Accidents In Naples That Can Cause Serious Personal Injuries
Construction is one of the most dangerous occupations, and workers in this field face major risks. Construction accidents can also impact people passing by the area, putting them in danger of serious personal injuries. According to the Occupational Health and Safety Administration (OSHA), there are four common types of accidents that are likely to happen on or near construction sites:
Slips, Trips, and Falls
The Florida Department of Health reports that falls are the most common type of construction site accident in the state and the third leading cause of death among construction workers. Trips and falls are common when working on scaffolding and ladders or anywhere on or near excavations. Passersby also face fall risks due to construction debris, lack of proper ground cover, and uneven walking surfaces.
Getting Struck By Objects
The risk of falling objects is one of the primary reasons why construction workers are required to wear hard hats at all times on construction sites. However, there is little to protect pedestrians and others passing through these areas.
Getting Caught In Or Between Objects
Construction workers face obvious risks when working around heavy tools, machinery, and construction equipment. People in the area can also suffer harm due to being struck by vehicles or inadvertently getting caught in or between objects.
Electrocutions
Working with or near live wiring poses major hazards. One wrong move or a mistake on the part of other workers can result in fatal injuries. People nearby can be injured due to falling wires, sparks, and power surges.
Compensation For Construction Site Injuries
All of the above and other construction site accidents in Naples often happen due to the negligence of others involved. Negligence means they either took reckless actions that put others at risk, or failed to take standard precautions to prevent personal injuries.
Under the Florida Statutes, you have the right to hold them accountable for losses you suffer as a result. Compensation available includes:
Coverage of all medical expenses;
Reimbursement for current and future lost income;
Payment for other losses, including pain and suffering.
Discuss Your Options With Our Naples Construction Accident Lawyer 
Construction companies have teams of attorneys to defend them against claims. To protect your rights, get our legal team at Cardinal Law Firm on your side. To discuss your options in filing a claim, call or contact our Naples construction accident lawyer online and request a consultation today.
Sources:
osha.gov/sites/default/files/publications/construction_hazards_qc.pdf
floridahealth.gov/environmental-health/occupational-health-surveillance/_documents/fatal-falls.pdf
leg.state.fl.us/statutes/index.cfm?App_mode=Display_Statute&URL=0700-0799/0768/Sections/0768.81.html