Road Construction Accidents In Naples: How To Reduce Your Risks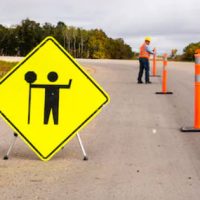 Road construction projects in Collier County occur on an ongoing basis. In addition to snarling traffic and causing delays for drivers, it also poses serious personal injury risks. Road construction workers and motorists both need to be aware of the potential hazards. Our Naples construction accident lawyer offers tips to help reduce the risks.
Road Construction One Of The Most Dangerous Occupations
The construction industry is one of the most hazardous in terms of job-related injuries, and people who work in road construction are among those at the highest risk. According to the Federal Highway Administration (FHWA), more than 20,000 road construction workers are injured each year. In over 2,000 of these cases, it is due to incidents involving motor vehicles.
Road construction accidents pose major hazards and, with little to protect them, construction workers involved often suffer severe and potentially life-threatening personal injuries. Among the most common causes include:
Poor visibility, in which motorists may not see workers nearby;
Uneven road surfaces due to construction, making it more likely for drivers to lose control of their vehicles;
Road detours and construction signs, creating confusion among drivers and diverting their attention from the road;
Reckless driving behavior, such as tailgating, improper passing, and going too fast for conditions.
Road Construction Increases Car Accident Risks 
In addition to being dangerous for workers, road construction sites pose serious personal injury risks for drivers as well. They are one of the most common places for car accidents in Naples to happen. To reduce your risks, follow these tips:
Be aware of ongoing road construction work in the area: Collier County provides a list of current road projects, which local drivers should review regularly.
Slow your speed: Drivers are required to reduce their speed in road construction zones and can face heavy fines for not doing so.
Give other motorists space: Allowing plenty of room between you and other motorists reduces the odds of a collision.
Avoid distracted driving: Keep your eyes on the road and your hands on the steering wheel at all times.
Be prepared to stop: Remain alert for sudden stops and other unexpected traffic delays.
Take a deep breath: Getting angry or acting aggressively toward other drivers or road workers only increases the odds of an accident that could result in serious personal injuries.
Injured In A Road Construction Accident In Collier County? Contact Our Naples Construction Accident Lawyers
Road construction in Collier County poses serious personal injury risks for construction workers and motorists in the area. Accidents are common and can end up causing major harm to everyone involved. At Cardinal Law, P.A., we help victims get the compensation they need to recover.
Typically among the most complex types of cases, it is important to get our Naples construction accident lawyers on your side right away. We can determine who is liable and provide the professional legal representation you need in filing a claim. To request a consultation, call or contact our office online today.
Sources:
ops.fhwa.dot.gov/wz/workersafety/index.htm
colliercountyfl.gov/government/growth-management/divisions/capital-project-planning-impact-fees-and-program-management/transportation-planning-section/planning-studies?locale=en